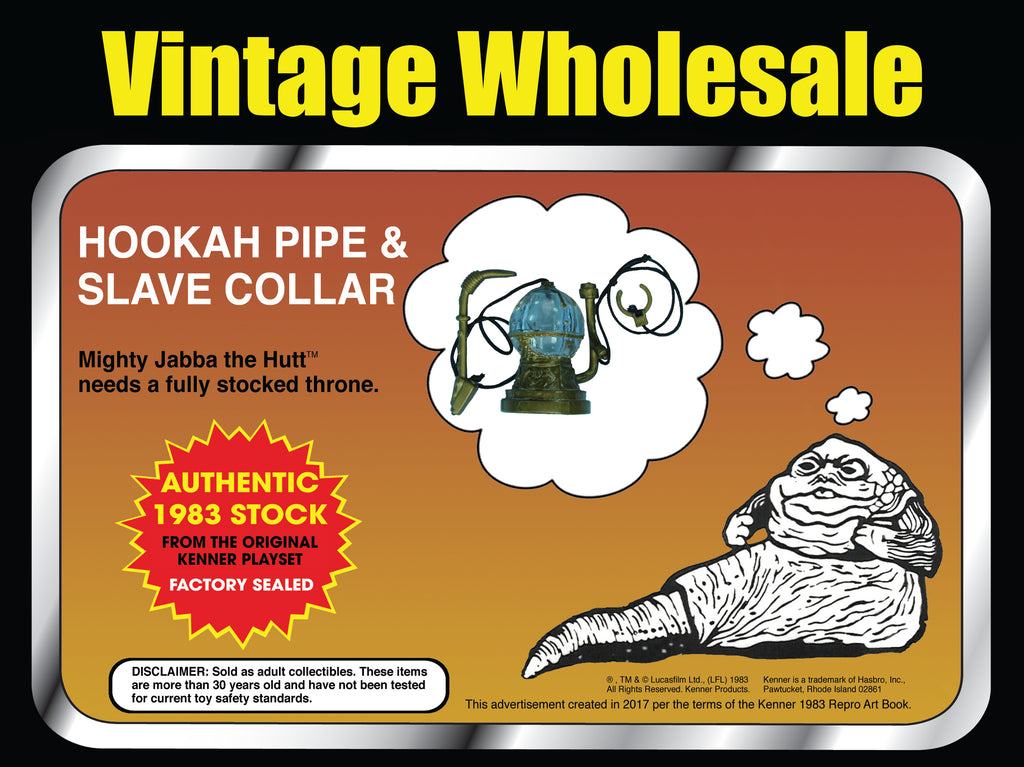 Kenner
Wholesale Group of 50 '83 vintage Kenner Jabba the Hutt pipe / Hookah and slave collar with display
---
Each lot ordered includes 50 original toy accessories in sealed factory bags produced by Kenner for the Jabba the Hutt playset in 1983. These were overstock from the end of the line that were never packaged in playsets. 
Because we get lots of questions about when these were made, what they were for, etc., each wholesale lot includes a professionally printed advertising display that clarifies that these are original vintage items from the 1983 Kenner Jabba the Hutt playset. Displays are only available with wholesale lot purchase.
We sell through these briskly ourselves, but for a short time we've set aside a supply to sell at wholesale price for collectors or dealers looking to sell in shops, antique malls, or toy shows. 
Quantity lots of original overstock Kenner action figure toys are becoming incredibly hard to find, and we find these sell quickly at $5 each plus shipping. We have a lot of repeat buyers at that price that are re-selling them at higher prices, so we've streamlined this by creating small bundles for re-sellers. What other new condition vintage Star Wars items can still be purchased for $5? 
COMBINED SHIPPING
Within the United States
Shipping is included in the price for each lot. Combined shipping costs are factored into the group price based on assumptions of shipping up to 2 lots together. Inquire at jaime@toychamber.com to check on rates for shipping 3 or more wholesale lots at one time.
Outside the United States
Add wholesale lot to the shopping cart to see shipping cost for your country. Non-US buyers interested in buying more than one lot will likely see a higher charge than the final rate we will charge. We can adjust the cost lower before we accept your Pay Pal or credit card payment.
 Inquire at jaime@toychamber.com to check on rates for shipping 2 or more wholesale lots at one time.
---
Share this Product